July 27, 2014 – Ancient Stories: Who Wrestles with Us and is Okay with That from John Knox Kirk on Vimeo.
A sermon preached at John Knox Kirk of Kansas City, Missouri, on July 27, 2014.
Matthew 14:13-21
and Genesis 32:22-31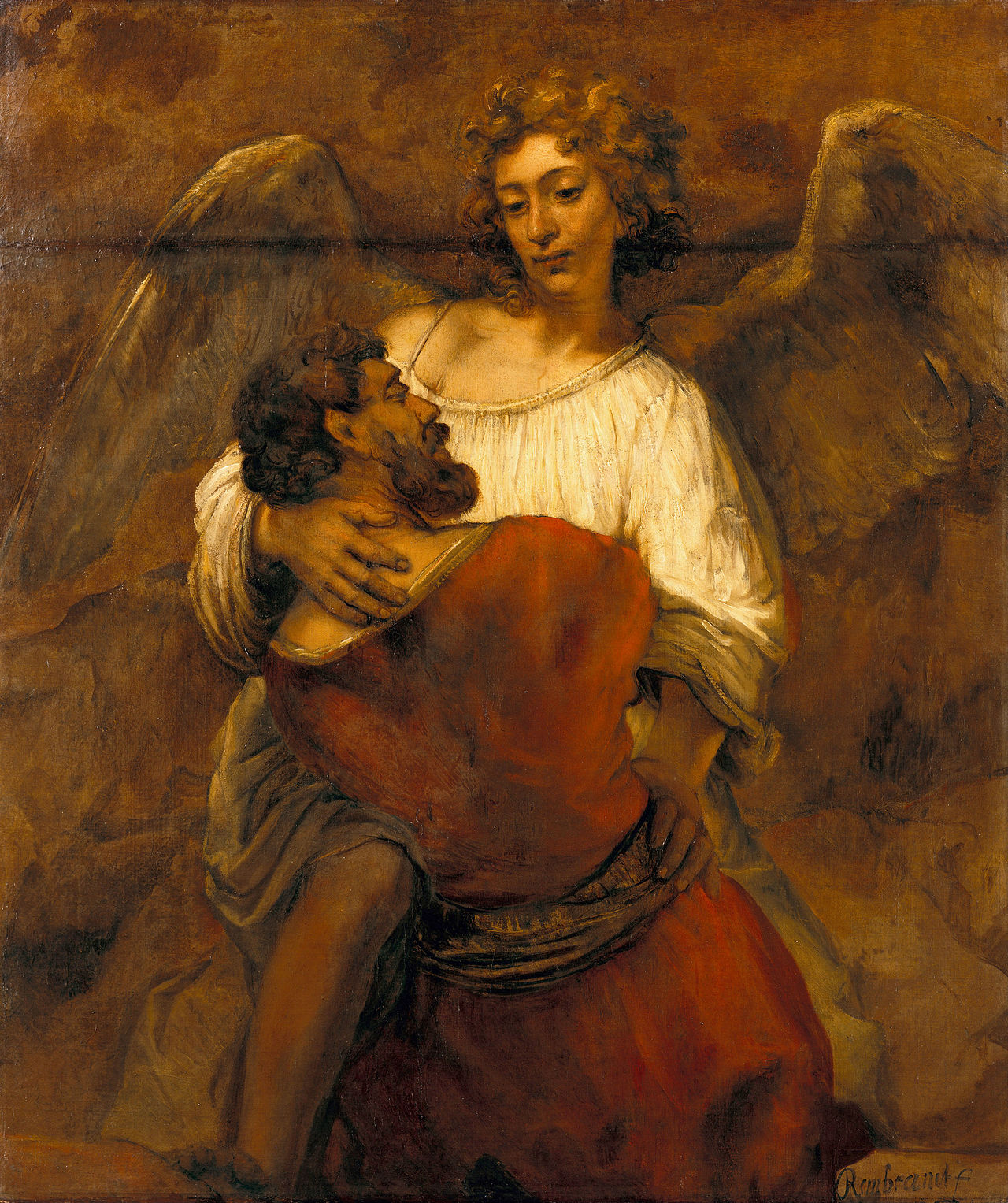 I had some tears writing this sermon.
It conjures up many memories from a lifetime of faith.
These stories in Genesis are life giving for us, I think.
But perhaps not the way one might expect.
I don't know about you, but I have a tendency to want things to be simple,
to prefer the black-and-white description of a problem,
with a clear and robust solution.
My car won't start. The diagnosis is a bad battery
(caused by a forgetful driver who didn't close the door)
and the solution is a jump start,
or at worst a new battery.
Hopefully not a new car.
Or, that noise in the garage,
thankfully it stopped once the mousetrap went off the other day.
No more noise. That must be the end of it, right?
I hope so.
Who doesn't prefer things to be simple, clear and unambiguous?
Cut and dried.
But so much in our life never works this way.
*The blood work wasn't quite clear, and there need to be more tests
but the treatment options aren't very good regardless.
*Our friends are fighting, and we can see both sides of the argument
and we don't know how to help or how to be honest
without hurting one or the other, or both!
*There is SO MUCH TO DO—around the house, for work, for school,
cleaning and cooking and mending—
how can there be time for it all?
So much in life is complicated, complex, multi-faceted.
We'd have enough if it were just our lives and our struggles,
but then heap onto it the crazy world we live in:
What is the right thing to do about tens of thousands of children,
young kids, mind you,
flooding into the United States,
fleeing not just poverty, but unspeakable violence
and political strife and drug cartels
in Central America?
Just pack them up and send them back?
Keep them in make-shift detention centers on military bases?
Free them to be with family and loved ones who will care for them?
If we acknowledge the biblical call to care for children in our midst,
along with all the vulnerable, the hurting, the hungry,
the responsibility to treat well
the foreigner traveling in our land—
my bible uses the word "alien" alongside with
widows, and orphans, to describe those
most in harms way
If we acknowledge that, how do we respond to so many kids
in the middle of an already fractious, tentative, politically fraught
question about immigration policy and reform?
Not easy. Not clear at all.
And that's just one headline story from this week's papers. [Read more...]